Data Transfer Rate Capability of up to 40Gbps Allows Users of CFexpress Type B Devices to Triple Their Current Workflow Performance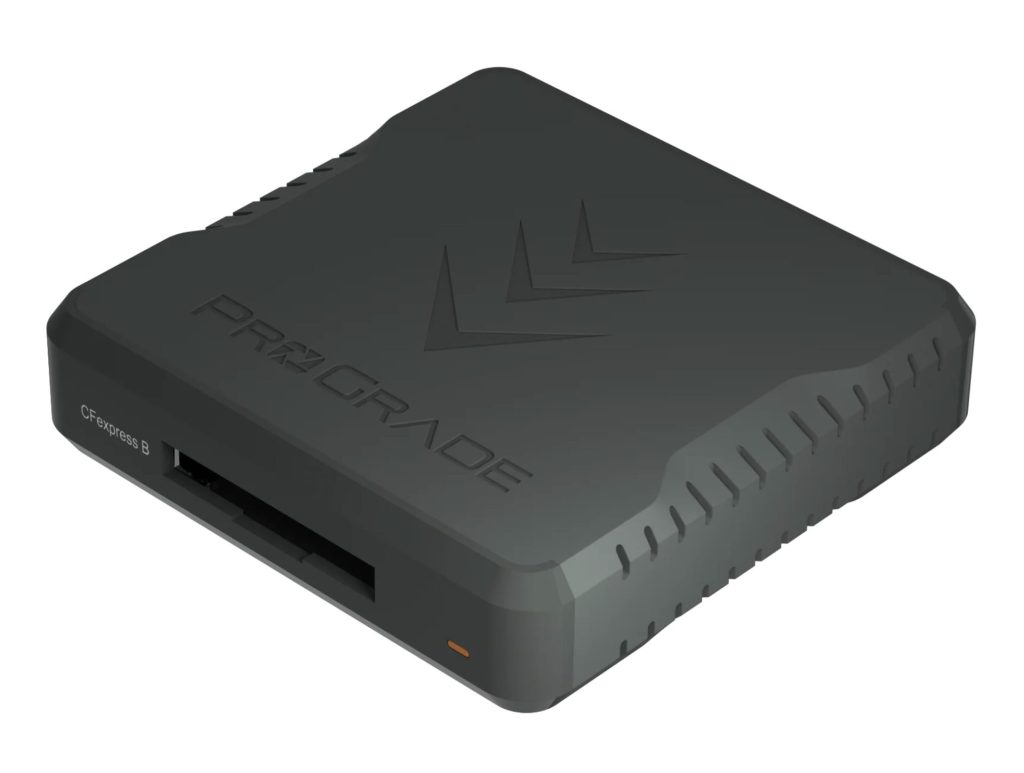 San Jose, CA September 5, 2023, 8:00 ET —ProGrade Digital™, founded with a mission to provide the highest quality professional grade digital memory cards and workflow solutions, announces its new PG05.6 card reader, a single-slot reader designed specifically for the latest CFexpress 4.0 (PCIe Gen 4) Type B memory cards. The PG05.6 reader is based on the latest USB 4.0 technology which is designed to achieve speeds of up to 40Gbits/sec. When used in conjunction with the latest CFexpress 4.0 (PCIe Gen 4) memory cards, benchmark tests highlight a tripling of data transfer speed from card to host. The PG05.6 is also equipped with ProGrade's patented magnetic base and an adhesive metal plate that allows users to mount the reader to any work surface, such as the back of a laptop. The new reader is also supplied with a certified USB 4.0 cable – assuring the maximum performance possible.
"Our new PG05.6 reader provides a tremendous leap forward in workflow performance by allowing content offload speeds to be reduced by 67% when compared to the performance of USB 3.2, Gen 2 technology of our current product line-up", said Wes Brewer, CEO and Founder of ProGrade Digital. "Along with faster speeds comes the need to provide extra cooling capability for reader and card – something we've spent more than a year perfecting in the new design."
ProGrade Digital USB 4.0 CFexpress Type B Single-Slot Card Reader Key Features:
Single-slot memory card reader for CFexpress 4.0 Type B cards
Backward compatible with CFexpress 2.0 Type B cards
Transfer rates of up to 40Gbps (5GBytes/sec)
USB 4.0 interface
Patented magnetic base and included adhesive metal plate
Heat sink for extra cooling capability
Refresh Pro™ enabled*
USB 4.0 certified cable included
MSRP $99.99
Like all ProGrade readers, each PG05.6 reader contains a unique serial number to ensure best-in-class after sales support and tight quality control of the components used inside. Using this serial number, a customer can register their product at http://progradedigital.com/register to receive product updates. The new reader is also shaded a dark grey with blue accents on the rear connector to clearly differentiate it from the prior generation of USB 3.2-based readers.
Customers may purchase ProGrade Digital products on www.progradedigital.com, B&H Photo and Video, or Adoramawebsites along with many other retailers around the globe. Customers in select regions may purchase on Amazon with Prime shipping.
About ProGrade Digital, Inc.
ProGrade Digital focuses exclusively on the design and marketing of digital memory cards, card readers, and workflow software required by imaging professionals. Flagship products include ProGrade Digital CFexpress™ and ProGrade Digital SDXC UHS-II V90 memory cards offered in a range of capacities and USB 3.1 Gen 2, and USB 4.0 high-speed readers. ProGrade Digital memory cards and workflow solutions are available for purchase globally through Amazon.com, on the company website, and also B&H Photo and Video.
*Refresh Pro™ functionality requires ProGrade Digital Refresh Pro™ software application and a ProGrade Digital card and reader. This is a great way to monitor card health and restore the card back to factory-fresh conditions.
High-resolution product photos and logo for download: 2023-09-05 CFexpress Type B Single-Slot USB 4.0 Card Reader (PG05.6)
ProGrade Digital is an authorized licensee of SDXC, CFast 2.0,4.0 and CFexpress trademarks. All other brand or product names in the release are trademarks or registered trademarks of their respective holders.
Media Contact:
Mark Lewis
Vice President Marketing
ProGrade Digital, Inc.
[email protected]
+1 408.708.9292