The 512GB, 1TB, and 2TB Gold Memory Card Provides the Optimal Capacity for RAW Cinema-Level Video Shooting Applications with New Higher Performance Read/Write Speed Capability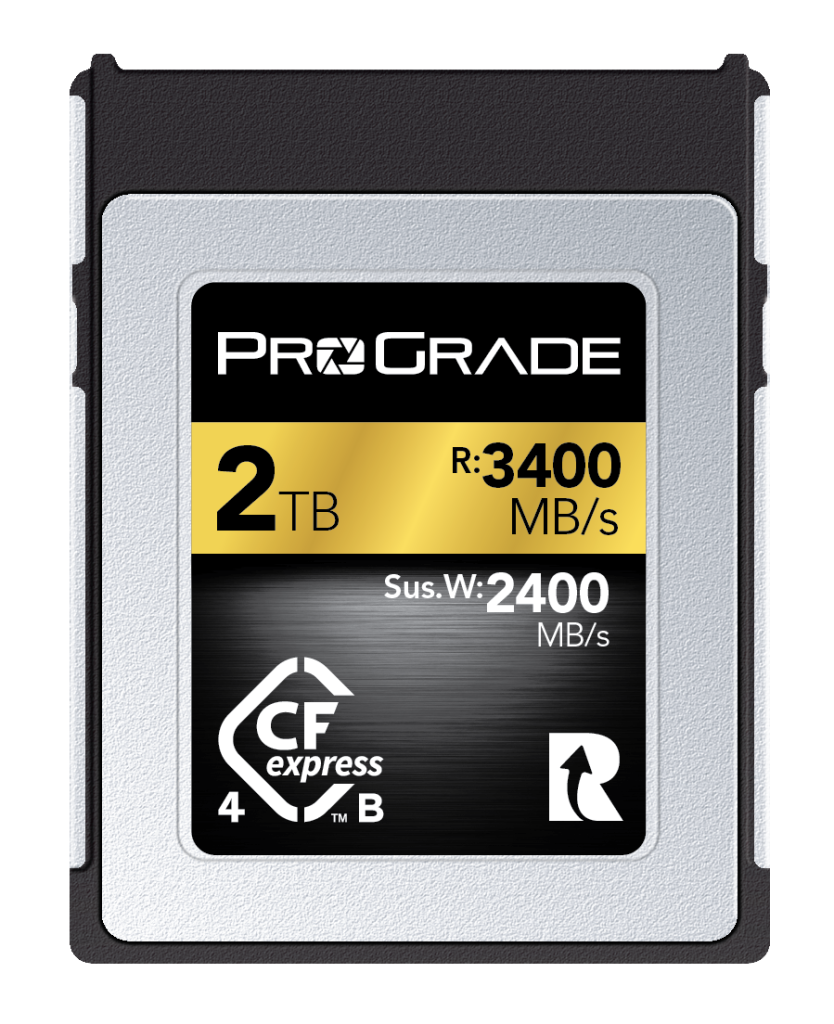 San Jose, CA November 15, 2023, 8:00 am PT — ProGrade Digital, Inc., founded with a mission to provide the highest quality professional grade digital memory cards and workflow solutions, announces the 4th generation of its CFexpress™ Type B Gold-class memory card in a 512GB, 1TB, and 2TB capacity. This new generation features the same industry-leading quality as the ProGrade current 3rd generation 512GB, 1TB, and 2TB capacity cards, but now leverages PCIe Gen 4 interconnect with NVMe 1.4c host controller interface. ProGrade Digital's 4th generation CFexpress Gold cards are fully compliant with the newly released CFexpress 4.0 specification, and provide read speeds of up to 3,400MB/s, burst write speeds of up to 3,000MB/s, and sustained write speeds of up to 2,400MB/s – ideally suited for the highest-resolution cinema-grade video capture applications. 
"The introduction of our 4th generation CFexpress Gold cards – with capacities ranging from 512GB to 2TB – provide the breadth of performance and storage capability required by a wide range of still and video applications. The big news here is our introduction of unparalleled performance, unleashed by the new CFexpress 4.0 standard, at price points not seen before at these performance levels," said Wes Brewer, founder, and CEO of ProGrade Digital. "These new PCIe Gen 4 based cards, coupled with our newest USB 4.0 (PG05.6) high-speed reader, will allow offload speeds that are 3x greater than previously possible – dramatically improving professional workflow."
ProGrade Digital CFexpress 4.0 Type B Gold Memory Cards:
Maximum read speed up to 3,400MB/s
Burst write speed up to 3,000MB/s
Minimum sustained write speed 2,400MB/s
CFexpress 4.0
Capacity: 512GB, 1TB, 2TB
MSRP: $179.99, $399.99, and $799.99 respectively
CFexpress 4.0 Type B Gold Delivers:
Fully compliant with CompactFlash™ Association 4.0 specification and backward compatible with 2.0 specification 
NVMe host interface with PCIe Gen4 X2 interconnect 
Low standby power through NVMe PS0 – PS4 support enabling extended battery life
Metal enclosure for improved durability and heat dissipation 
Thermal throttling protects the card from overheating
Laser etched unique serial numbering for the tracking of key components and manufacturing data for the highest quality control
Temperature ranges: operating 14°F to 158°F/ -10°C to 70°C; storage -4°F to 185°F/ -20°C to 85°C
Packaging: Biodegradable fiber tray
Refresh Pro ready*
TLC (Triple Level Cell) memory technology for high reliability
X-ray proof and shock-proof
3-year warranty
Customers may purchase ProGrade Digital products on www.progradedigital.com, Amazon, B&H Photo and Video, or Adorama websites along with many other retailers around the globe. Customers in select regions may purchase on Amazon.com with Prime shipping. 
About ProGrade Digital, Inc.
ProGrade Digital focuses exclusively on the design and marketing of digital memory cards, card readers, and workflow software required by imaging professionals. Flagship products include ProGrade Digital CFexpress™ and ProGrade Digital SDXC UHS-II V90 memory cards offered in a range of capacities and USB 4.0 and USB 3.1, Gen 2 high-speed readers. ProGrade Digital memory cards and workflow solutions are available for purchase globally through Amazon.com, on the company website, and also B&H Photo and Video.
*Refresh Pro™ functionality requires ProGrade Digital Refresh Pro™ software application and a ProGrade Digital card and reader. This is a great way to monitor card health and restore the card back to factory-fresh conditions.
High-resolution product photos and logo for download: 2023-11-15 CFexpress 4.0 Type B Gold Memory Cards 
ProGrade Digital is an authorized licensee of SDXC, microSDXC, CFast 2.0, 4.0, CompactFlash, and CFexpress trademarks. All other brand or product names in the release are trademarks or registered trademarks of their respective holders.
Media Contact:
Mark Lewis
ProGrade Digital, Inc. VP Marketing
+1 408.708.9292