The CFast 320GB and 640GB Cobalt Memory Cards Offer Superior Performance
For a Wide Range of Digital Capture Needs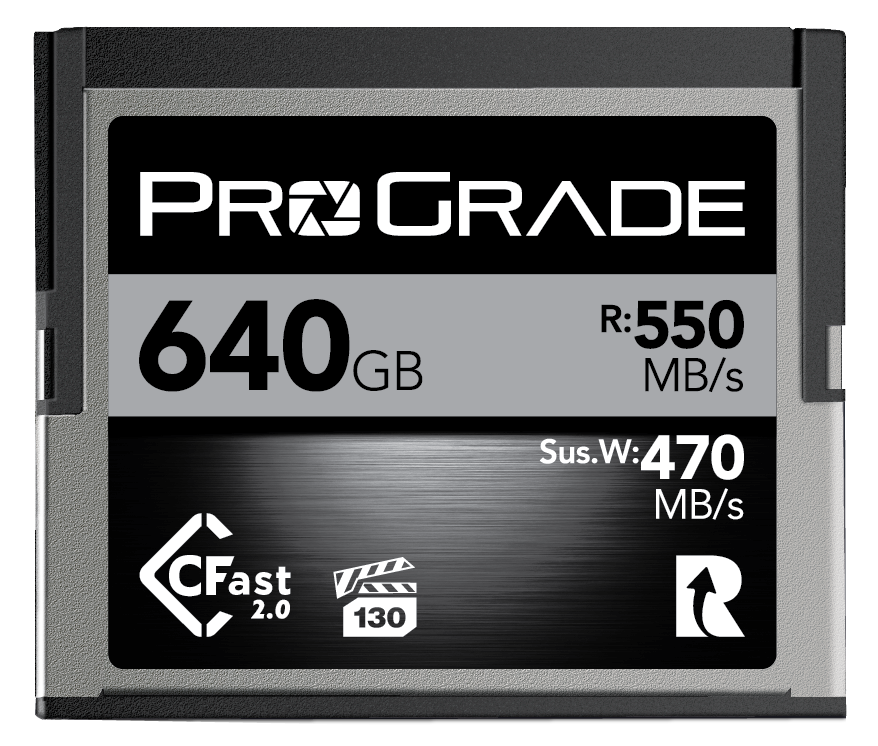 Toyota City, Japan November 12, 2022, 8:00 am — ProGrade Digital, Inc., founded with a mission to provide the highest quality professional grade digital memory cards and workflow solutions, announces its new 320GB and 640GB CFast Cobalt memory cards. This new family of CFast Cobalt memory cards provide read speeds of up to 550MB/s, burst write speeds of up to 520MB/s, and sustained write speeds of up to 470MB/s – ideally suited for a broad range of still and moving image capture applications. To differentiate the new generation from prior generations, the sustained write speed is now clearly stated on the card's top label.
"The introduction of our 3rd generation CFast family of cards is now upgraded in terms of reliability and performance and bear our Cobalt designation – the very best we offer, said Wes Brewer, founder, and CEO of ProGrade Digital. "This new generation of CFast cards provide the superior performance needed for the very highest resolution video and still capture needs at capacity and price points that are optimized for nearly all professional needs." These products will be available for purchase in late December.
ProGrade Digital CFast 2.0 Cobalt Memory Card:
Maximum read speed up to 550MB/s
Burst write speed up to 520MB/s
Minimum sustained write speed up to 470MB/s
Capacities: 320GB and 640GB
MSRP: $329.99 and $599.99 respectively
CFast 2.0 320GB and 640GB Cobalt Delivers:
Optimized controllers specifically designed for use in professional-grade cameras
Error correction to detect and correct data write and data transfer errors
Wear-leveling for integrity and longer life
X-ray proof and shock-proof
SATA III 6Gb/s bus
Temperature ranges: operating 32°F to 158°F/ 0°C to 70°C; stored: -40°F to 212°F/ -40°C to 100°C
Dimensions: 36.4 mm x 42.8 mm x 3.6 mm
Laser-etched, unique serial number on each card to allow quick compatibility checks and after-sales support
Packaging: Biodegradable fiber tray
Refresh Pro ready*
X-ray proof and shock-proof
3-year warranty
Customers may purchase ProGrade Digital products on www.progradedigital.com, B&H Photo and Video, or Adorama websites along with many other retailers around the globe. Customers in select regions may purchase on Amazon.com with Prime shipping.
About ProGrade Digital, Inc.
ProGrade Digital focuses exclusively on the design and marketing of digital memory cards, card readers, and workflow software required by imaging professionals. Flagship products include ProGrade Digital CFexpress™ and ProGrade Digital SDXC UHS-II V90 memory cards offered in a range of capacities and USB 3.2, Gen 2 high-speed readers. ProGrade Digital memory cards and workflow solutions are available for purchase globally through Amazon.com, on the company website, and also B&H Photo and Video.
*Refresh Pro™ functionality requires ProGrade Digital Refresh Pro™ software application and a ProGrade Digital card and reader. This is a great way to monitor card health and restore the card back to factory-fresh conditions.
High-resolution product photos and logo for download: (2022-11-12 CFast 2.0 Cobalt)
ProGrade Digital is an authorized licensee of SDXC, microSDXC, CFast 2.0, CompactFlash, and CFexpress trademarks. All other brand or product names in the release are trademarks or registered trademarks of their respective holders.
Media Contact:
Mark Lewis
ProGrade Digital, Inc. VP Marketing
+1 408.708.9292