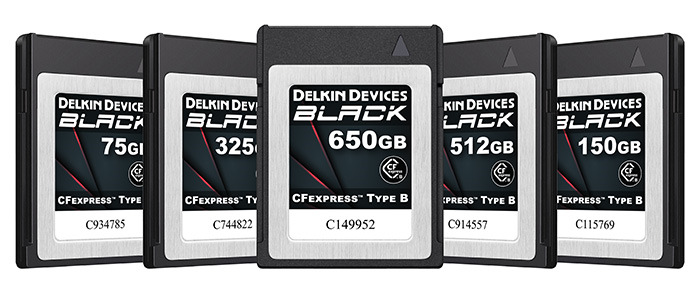 Poway, CA, 2022 – Delkin Devices, a manufacturer of flash storage solutions and camera accessories, announced today the launch of its latest version of top-selling BLACK CFexpress™ Type B memory cards. With improved speeds, more capacity and guaranteed full compatibility with the latest Nikon Z9 firmware (v2.0), Delkin's BLACK CFexpress™ cards offer photographers and videographers a solution that is both reliable and trustworthy for professional use.
Specially designed to meet the data-intensive demands of today's broadcast, cinema and photography industries, Delkin BLACK CFexpress™ Type B cards provide minimum sustained sequential write speeds exceeding 1240 MB/s, guaranteeing flawless cinema-quality video recording, including 8K RAW 12-Bit @ 60fps (2.6 Gbps) in the Nikon Z9. The cards are also capable of offloading data at speeds reaching up to 1725 MB/s, ensuring the quickest, most efficient data transfer from card to computer for immediate file access and sooner post-production start time.
"What is the Delkin Difference?" asks Jenn Sherry, Delkin's Director of Retail Sales & Marketing. She continues, "a handful of key things make us rock. Our Delkin BLACK line offers the World's Best Warranty for memory cards, the cards come serialized from authorized retailers and we offer customer service in four time zones around the globe. No other memory card company offers that to their customers. If you haven't purchased a Delkin CFexpress card before, give us a chance. I'm happy to take your call personally and answer any questions."
Each BLACK CFexpress™ Type B memory card has undergone extensive testing to ensure full functionality in today's high-end cinematic hosts, including ones from Canon® (C300 Mark III, C500 Mark II, 1D X Mark III, R3, R5 & R5C), Nikon® (D6, Z6 II, Z7 II & Z9), Panasonic® (S1/S1R & GH6) and Phase One® (XF IQ4). It is important to note though that CFexpress™ Type B cards are not backwards compatible with either CFexpress™ Type A, CFast 2.0 or CompactFlash hosts.
In addition to their "Lifetime Warranty" policy, Delkin continues to offer a unique built-in insurance policy for their BLACK memory cards, known as the "48 Hour Replacement Guarantee". Delkin will replace any non-working BLACK card within 48 hours or less (not including weekends), prior to receiving the non-working card. Cards can also be exchanged over-the-counter at any authorized Delkin BLACK reseller.
ABOUT DELKIN DEVICES, INC.
Delkin Devices' consumer group manufactures memory cards and accessories for the photography market. Delkin has been in business since 1986 and has offices located in both the US and UK, as well as an agent in Japan. If you would like more information regarding this product or any other Delkin product, please contact Jenn Sherry at [email protected]